SOLD- 405-909 Pendergast
START SOMETHING GREAT
I just love these one bedroom places near Cook St. They're an uncommon chance to get into Victoria's real estate market which doesn't exist anywhere else. They're special and I LOVE a unique find! The thing about this little condo is that it has to get soooo much done with relatively limited resources - max affordability, incredible location, great layout- it's the way to go if you're on a tight budget and want to own a home.
Be a part of the Fairfield lifestyle from the top floor at Edgemont Villa! We've sold quite a few of these leasehold units across from Beacon Hill park in recent months. A collection of artists live there. Musicians, painters, and writers. All walks of life and all ages. What drew them to this life here was the wonderful spot. A place nestled between parks and ocean, the village and town. Many sold larger homes in other neighbourhoods and sought out the custom experience that only these two leasehold buildings can offer. Join us at the open house and we'll show you around!
$245,000
OPEN HOUSE Sunday May 5th , 3 pm - 5 pm
Easy to view. Call 250-940-4765 for an appointment.
make it your own
From fixer uppers to completely redone there's a variety of levels of finish in the building. I've seen people go all out in these units. Our listing is great because it's move in ready but has room for your ideas. AND at this price point quartz countertops and a completely custom kitchen is easy to swing. #healthywealthy! Embellish on the beautifully restored oak floors and start your play with design from there. There's room to make this space spectacular and since I'll take absolutely any opportunity to put together a lookbook, here's a round up of few ideas that would take the kitchen to next level.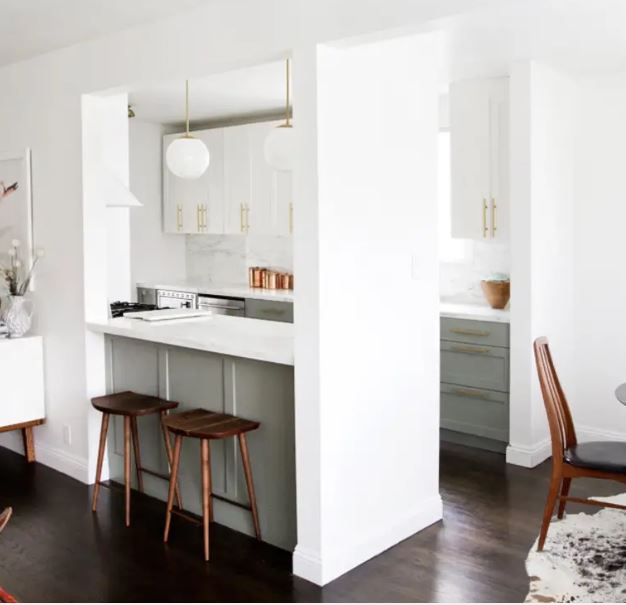 let's talk shop
If you haven't taken the 3D tour already here's the skinny. This is a 1 bedroom, 1 bathroom top floor cutie. It's got a great amount of space and has a proper dining area which I also love. It leaves the option for a more formal dining set up but if that's not your thing the extra space could be a great work/office space or a chance to extend the kitchen five feet. Dealers choice! Regardless in this day and age when all the brand new stuff is thumbnail sized and pricing is upwards of $600 per sq ft it's nice to get a gracious amount of space for a really good price.
If I had to make a car analogy- and I don't, but I will- this would be a Porsche Cayenne on a Toyota corolla budget. Come take a look!
$245,000
OPEN HOUSE Sunday May 5th , 3 pm - 5 pm
Easy to view. Call 250-940-4765 for an appointment.